PRESS RELEASE
[April 8th, 2019 Lahore, Pakistan] Folio3 AI and Lahore School of AI teamed up to host a meetup for AI enthusiasts hailing from enterprises, startups and academic institutions at Lahore Office of Folio3.
The AI meetup was an inaugural meet-up hosted by Folio3 AI to discuss the latest trends, challenges, opportunities etc. in the realm of Artificial Intelligence. With the collaboration of Lahore Chapter of School of AI which has been conducting similar kind of sessions in the past as well for the subject awareness and community building purpose within this field.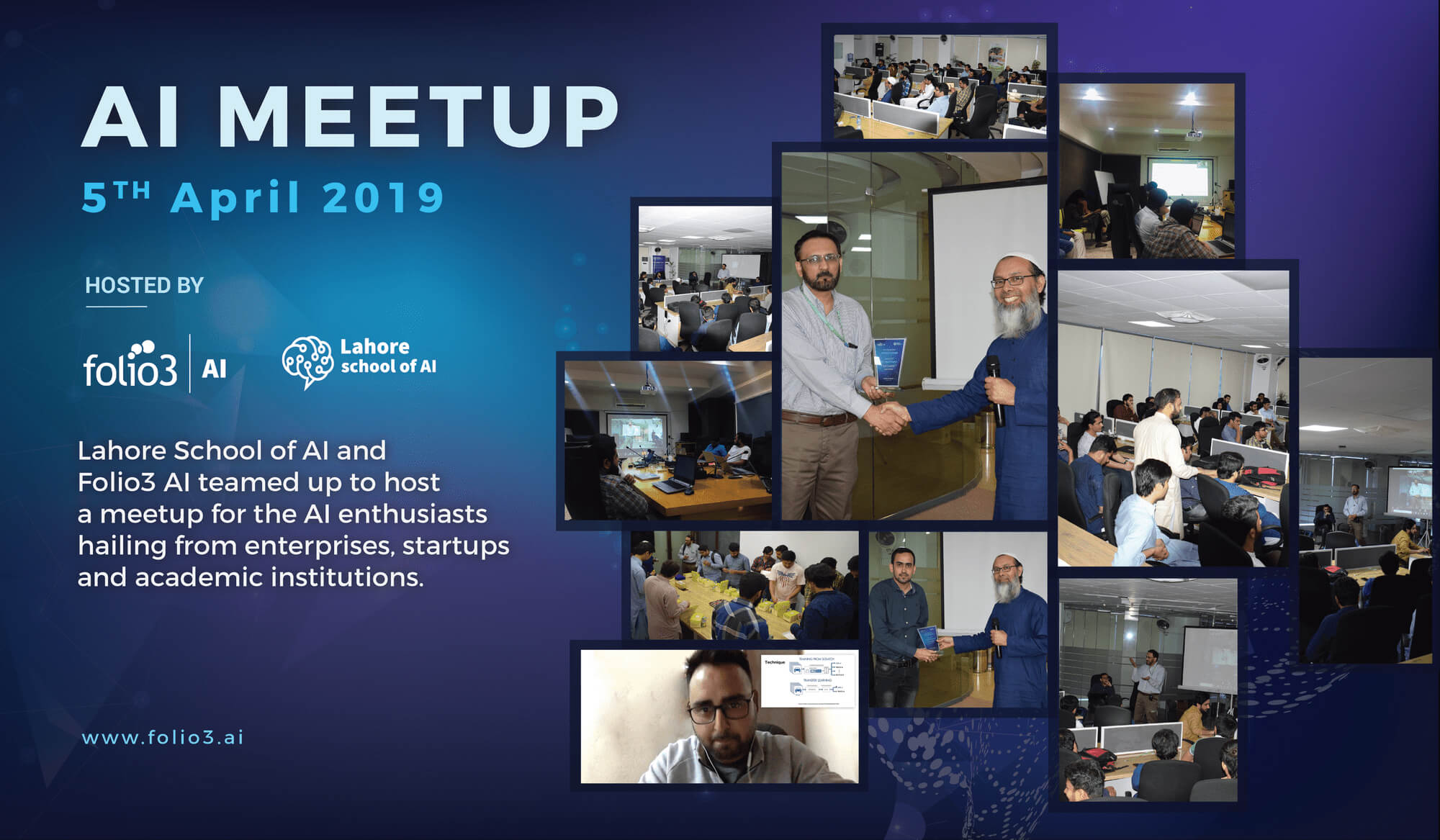 The venue for AI Meetup was the new Lahore office of Folio3 in Gulberg III. The event took place on 5th April, 2019. AI enthusiasts from diverse backgrounds attended this event ranging from students, professionals, professors and entrepreneurs.
Ahmed Hassan, who is heading the Lahore office of Folio3, in his opening speech welcomed the audience introduce the guest speakers and spoke about Folio3 and its vision for innovation.
Followed by the introduction were the key speaker sessions, which was initiated by Kshitiz Rimal, who joined us remotely from Nepal. Mr. Rimal is a Google Developers Expert and Head of Research AID Nepal. He presented "Transfer Learning to Save the World" to the attendees and answered their queries with his vast experience on the particular subject.
Later on, a research excellency; Dr. Kashif Zafar Former Head of Department and Professor of CS Department – FAST Lahore contributed to the event with his informative presentation on "Evolution of AI and Industry 4.0." And also informed about the processes and different initiatives for aspiring AI professionals.
Last speaker but not certainly the least, Muhammad Usman presented and showcased on the significance of Big Data with his topic; "Domesticating your Big Data." He is a Data Scientist at IBM currently and addressed the attendees with a new perspective in regards to Big Data.
Concluding the event with memento presentation to the Speakers, refreshments to the attendees and a healthy continuous Q/A session focusing on the need for innovation and future possibilities with in AI.
---
About Lahore School of AI:  It is a community of AI practitioners spread across the globe working in tandem to solve real-world problems. It is part of the global community "School of AI" and their mission is to offer a world-class AI education to anyone on Earth for free. https://www.facebook.com/groups/LahoreAICommunity/
About Folio3 AI: It is the innovation wing of Folio3 Software Inc., which is a Silicon Valley based software development and technology solution provider. With a global presence in over 5 countries and a worldwide workforce of more than 250+ professionals.
Folio3 AI has a team of dedicated Data Scientists and Consultants that have delivered end-to-end projects related to machine learning, natural language processing, computer vision and predictive analysis. https://www.folio3.ai
---
For Press Inquiries – Please Contact:
Bakhtiar Shah
Marketing Department – Folio3 AI
+1 (408) 365 4638