Amazon Transcribe Service
Unleash the power of Amazon Transcribe and
AWS Speech Recognition with Folio3's expert consulting
services and make smarter, more accurate decisions
Amazon Transcribe Services we offer

Amazon Transcribe Integration
At Folio3, we specialize in seamless integration services. Our developer teams are the best qualified to help you with Amazon Transcribe integration with any application you desire. AWS Speech recognition services integrate smoothly with most apps regardless of operating system or platform.

Back-end Software Integration
Integration comes in many forms, and back-end integration can lead to complications if done incorrectly. Our team works tirelessly to perfect Amazon Transcribe back-end integration for our clients so that there is no room for bottlenecks while maintaining the integrity of your UI.

Custom Amazon Transcribe App Development
If you prefer front-end integrations, Folio3 can seamlessly meld AWS Speech Recognition into your application to ensure real-time voice and text processing. Never lose a precious moment when using Amazon Transcribe for rapid conversion of data.

Support & Troubleshooting Services
At Folio3, our team of developers is available around the clock for any of your Amazon Transcribe queries and troubleshooting. Our industry experts can handle any issues you may encounter, ensuring little to none in terms of downtime.

Custom IBM Watson App Development
In case you want a brand new application powered by Amazon Transcribe but personalised the way you want, you're in the right place. We can help you effectively build and deploy an Amazon Transcribe app from scratch exactly the way you want it.
Products made using Amazon Transcribe Service
Converse Smartly - Speech to text converter
One of Folio3's celebrated achievements includes the Converse Smartly® project. It helped establish Folio3 as a recognized leader in speech recognition app development. Converse Smartly used the power of Amazon Transcribe coupled with innovative applications of AI Machine Learning and Natural Language Processing. Converse Smartly's objective is to support organizations in developing a smarter, faster and smoother way of doing business. Key features include both front and back-end analysis of dialogue or speech sourced from meetings, conferences, seminars, lectures and interviews. By reducing the time wasted on manual transcription, Converse Smartly encourages more creative thinking.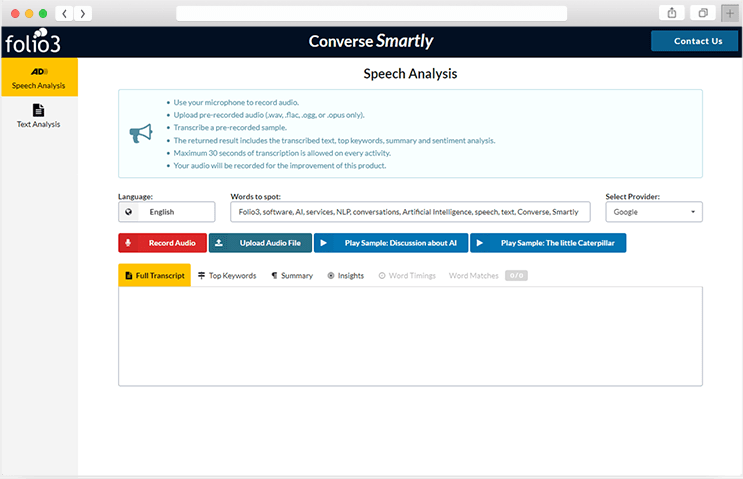 Applications of Amazon Transcribe
Amazon Transcribe is a versatile and dynamic piece of software with several uses for both business and individuals. As an expert in AWS Speech Recognition, Folio3 effectively utilizes its resources and those of its partners for the following Amazon Transcribe applications:

Improving Customer Service
Amazon Transcribe allows you to create powerful apps for managing customer facilitation. Amazon transcription services convert any audio input into text and enable search and analysis functions to improve data mining. You can use Amazon Transcribe to transcribe calls and excavate insightful data from them to improve the quality of customer service.

Captioning & Subtitling Workflows
Content creators and media distributors can use Amazon Transcribe to generate subtitles and captions for their content automatically. Doing so improves reach and accessibility for customers and improved understanding of the material. When used in combination with Amazon Translate, you seamlessly localise content for each region.

Cataloguing Audio Archives
Managing archives is a tedious task, regardless of the nature of the material. By effortlessly transcribing audio and video assets into fully searchable files, Amazon Transcribe allows you to check for compliance and potentially controversial content quickly. You can also use Amazon Elasticsearch to properly index and then search across your digital media warehouse.
Looking for Medical Speech to Text? We've got you covered!
We can help you implement, optimize, and automate using Amazon Transcribe Medical with ease.
Amazon Transcribe Features
Easy-to-Read Transcriptions
Streaming Transcription
Timestamp Generation
Custom Vocabulary
Recognize Multiple Speakers
Channel Identification
Easy-to-Read Transcriptions
Streaming Transcription
Timestamp Generation
Custom Vocabulary
Recognize Multiple Speakers
Channel Identification
No worries, let us talk you through the process. Contact us today for a free demo!
Got Issues with Accuracy? Let us help!
We can analyze your transcription systems and help improve the accuracy of the conversion. We are experienced in working with specific niches like medical transcription and regional accents.
Why Choose Folio3 as your Amazon Transcribe Partner?

Folio3 has accumulated extensive expertise and experience working with several industries and sectors. We leverage our deep insights to help our clients achieve maximum potential and pinpoint vulnerabilities.

Folio3's team of over 300 skilled developers are the very definition of professionalism and technical skill. You work with nothing less than the best when you work with Folio3.

1000+ Enterprise-Level Clients
Folio3 works with various companies covering a wide range of industries including healthcare, manufacturing, retail and traffic management.
LET'S TALK ABOUT YOUR PROJECT:
What is Amazon Transcribe?
As an AWS Speech Recognition service, Amazon Transcribe enables you to convert speech-to-text regardless of the input type. Using advanced Automatic Speech Recognition (ASR) technology, you can use Amazon Transcribe for various applications both in business and as an individual. Through Amazon Transcribe, you can process voice-based customer service calls, generate subtitles for audio/video content, and conduct a content analysis on the same, automatically.
Why is Amazon Transcribe better than others?
The Amazon Transcribe service can expertly and seamlessly process a variety of speech and acoustic characteristics, including, but not limited to variations in volume, pitch, and rate of speech. Furthermore, Amazon Transcribe services regularly update to keep pace with the changing nature of language and spoken conversation. The AWS Transcribe platform is designed to provide fast and accurate automated transcripts for multimedia files with varying quality.
How much does Amazon Transcribe cost?
Amazon Transcribe uses a pay-as-you-go format for billing. You are billed monthly at a flat rate of $0.0004 per second of audio transcribed per month. The Amazon Transcribe service has a minimum requirement of 15 seconds per request with billing at one-second increments.
If you expect to use more than a million minutes per month, you can contact Amazon Transcribe customer support for more details.
Is Amazon Transcribe Free to Use?
Yes, but only for a limited period. If you wish to use Amazon Transcribe for free, you can sign up for the Free Tier. With this package, you can start analysing audio up to 60 minutes per month for the first 12 months. Once your subscription expires or you use more than the allotted 60 minutes, you pay the standard 0.0004$ per second.
What is Amazon Transcribe analytics
Amazon Transcribe analytics refers to one of its key features. It is the process by which Amazon Transcribe identifies proper punctuation, applies a confidence score, identifies possible alternatives, generates time-stamps, uses custom vocabulary and identifies multiple speakers. All of this happens automatically, in real-time, thereby allowing for content analysis and data mining.
What AWS regions are available for Amazon Transcribe?
Amazon Transcribe is available in all AWS regions, excluding AWS GovCloud (US-East). i.e. Northern Virginia, Ohio, Oregon, Northern California, Montreal, São Paulo and AWS GovCloud (US-West).
How does Amazon Transcribe work with other AWS products?
Amazon Transcribe works quite well with other AWS products. Once Amazon Transcribe processes audio input into text, various analytical tools for processing text become usable. For example, by using Amazon Comprehend on the processed text data from Amazon Transcribe, customers can perform sentiment analysis or extract entities and critical phrases. Similarly, through integration with Amazon Translate and the Amazon Polly software, users can transcribe voice input, translate it to another language and convert the translation to voice output. Furthermore, you can also integrate Amazon Elasticsearch and Amazon Transcribe to create an index and perform text-based searches across audio/video library.