AI Services in Education
Utilize the power of machine learning and AI to augment your education and learning platforms to create effective learning systems for your users.
Schedule a Free Consultation
Transform Education with Machine Learning and AI
Online educational platforms have to incorporate a lot of features to enable maximum effectiveness and ensure appropriate levels of focus on each user/student. Whether you're looking at online classrooms or general learning and training platforms. AI and machine learning present a revolutionary change that can transform the entire experience. From AI-based virtual tutors to speech recognition, AI-powered tools can enable you to create a unique and focused experience.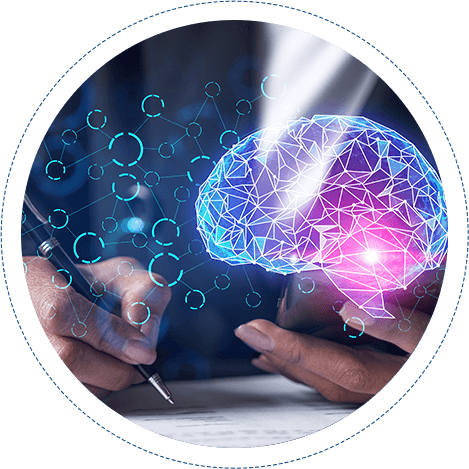 Benefits of AI in Education
Our machine learning and AI solutions enable our clients to transform their educational and learning platforms and create an effective learning experience for students/users. With adaptive learning techniques powered by AI, we can help you increase the effectiveness of your learning platforms and augment traditional services.
How Does the Folio3 AI Image Processing Model Work?
Folio3's AI Image Processing system is relatively simple. It is a combination of object identification, localisation and description. In other words, the system identifies objects within the picture, pinpoints the exact dimensions, location and characteristics, then attaches the relevant keywords. Also, depending on the need, the system can automatically improve image quality. Below are the eight critical phases of the process:

Natural Language Processing
Utilize NLP to transform the learning experience and by enabling text-to-speech conversions.

AI-based Bots for Learning
Utilize AI bots as virtual tutors to automate the learning experience and support teaching staff.

Accurately detect and identify handwriting using machine learning and convert it to text data.

Parse data from PDFs or other published formats to detect & extract text, images, etc.
Folio3 developed a highly interactive Learning Management System (LMS) with an interactive UI, rich dashboards, and unique functionalities to deliver a dynamic learning experience.
Folio3 automated the online application process and integrated their WordPress with their LMS/Moodle along with some key customizations.
Reader Bee is a multiple award-winning, interactive, learning app suite for kids. The Folio3 team developed a total of 6 interactive apps for Reader Bee that made learning fun and engaging for kids.
Looking for a similar solution? We can build bespoke solutions tailored to your specific needs.
Drop us a line and our experts will provide you with a free 1-hr consultancy and discuss your project requirements!

With over 15 years of experience in delivering deep and powerful insights to our clients that help maximize performance, we have worked in a range of scenarios that help us identify your problem quickly and deploy insightfully-built smart solutions!

Our certified experts in AI help companies address key issues that lower their performance with original strategies and solutions that are devised specifically for them.

1000+ Enterprise-Level Clients
By working for over 15 years in the industry, we are proud to have built a vast network of highly satisfied clients!
LET'S TALK ABOUT YOUR PROJECT: