Person Detection Solution
Accurately detect persons/people detection in live and
recorded image/video feeds.
Person Detection Powered by AI
Accurately detect people and persons in an image and/or video feed to automate a range of different use cases like, controlling access, personnel safety, and rescue. Our solution enables you to detect persons/people with ease and allows you to flag access to areas key areas, augment search and rescue efforts, ensure health and safety regulations like social distancing.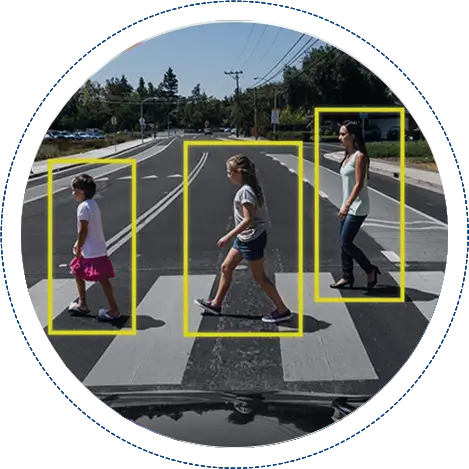 Person Detection Features
Our solution enables you to detect persons and identify key metrics that help dig up insights and automate a range of use cases.

Detect
Detects persons in an image or video feed.
Classify
Classify them into demographic groups (i.e. man, woman, child).

Identify
Identify activity (walking, running, sitting, etc.)

Alerts
Generate alerts and reports based on findings.

Support
The solution supports processing live feeds as an add-on.

Customizable
The solution is fully customizable and you can implement added functionality on top with ease.

Flexible
Flexibility to deploy on-cloud and on-prem.
Frameworks Used for OpenCV Person Detection
We utilize frameworks that provide the maximum flexibility to our clients along with the maturity and feasibility to ensure a return on their investment. Our teams offer the agility needed to work with the framework of your choice to ensure seamless integration.
Streamline Your Project with Our Step-by-Step Approach














Watch Our Demo for Person Detection and Counting Solution
Accurately detect people and persons in an image and/or video feed

Got queries? Looking for pricing details?
Let's walk you through the process. Contact us today!

Person Detection Solution FAQs
How does person detection work?
The person detection system works on the basis of pre-trained deep learning and artificial intelligence algorithms. It is an application of computer vision technique, where a machine is able to identify persons based on the pre-trained blocks or models. These models can be trained to recognize any object in an image or video using structured and labeled sample data.
What is the use of the folio3 person detection solution?
Folio3's person detection system is intended to improve the identification and detection of people in image or video data. The person detection system from Folio3 comes with various real-world applications, including; controlling access to sites, rescue operations, medical surveillance (social distancing during covid-19), personal safety, and much more.
What technology is used by folio3 to detect a person?
The person detection system by Folio3 uses advanced frameworks that offer maximum flexibility to users for their needs. Our system comes integrated with the robust and matured technological solutions that ensure the high accuracy and agility required to deliver seamless solutions to clients.
LET'S TALK ABOUT YOUR PROJECT: