Terrain Mapping
AI Powered Drones solving Your Real World Problems
How AI Helps in Terrain Mapping?
Artificial Intelligence based solutions for terrain mapping can help businesses turn simple raw footage or aerial data into actionable business intelligence. From monitoring and counting cattle, scouting acres of farmland, inspecting miles of pipeline, or hundreds of utility towers, AI can help identify issues that can help avoid catastrophic failures and critical problems. In addition, this will also drive your overall inspection and surveying costs down.
AI-powered solutions using drones conduct inspections much faster and cost-effectively than a team of experts or helicopter surveys.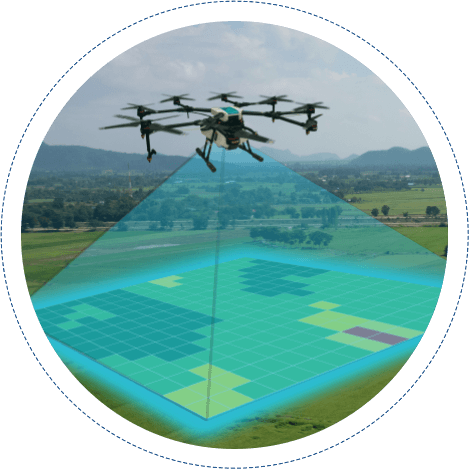 No surprise that Folio3's Machine Learning practise has been focusing on the usage of programmable AI drones, wherever required or possible. Drones have been only able to display what their cameras and sensors capture. With the advent of programmable AI drones they not only capture via the mounted camera but they can be programmed to act intelligently by observing their surroundings. This advanced computer vision capability enables them to map areas, track moving and static objects and provide a real time feedback.
AI-Driven Terrain Mapping Data & Analytics
Our custom solutions are designed to help you map, model, and inspect your environment or terrain. We build solutions that are designed to fit the specific needs and requirements of your business. Leverage AI to automate your surveys and inspections utilizing your drones to streamline analysis and reporting, ultimately increasing efficiency and reducing cost.
Use of AI Drones in Solving Your Real World Problems
Drones & AI are like a match designed by the cosmic plan. More than ever before drones can play an extended role in helping us solve real world problems. With the advent of advanced programmable drones, like DJI Matrice Series, their usage in a variety of industries is a no surprise. It has become an essential tool for everyone from firefighters to farmers and livestock managers.
You can collect a massive amount of data using drones, our solutions can help you process and analyze that information to create meaningful and actionable insights. We utilize AI and computer vision to extract the most value from your aerial data.

Efficient Data Processing
Utilize AI and computer vision to take care of annotation and data aggregation to maximize accuracy and speed.

Leverage our solutions to create meaningful maps, terrain models, surveys measurements from aerial drone data.

Get comprehensive reports delivered to relevant stakeholders across your organization.
Are you Ready to leverage AI Drones Solution ?
We offer our clients the opportunity to create their own machine learning applications.
Terrain Mapping System For Civil Engineers
Terrain mapping is required in a variety of industries for example in Agriculture, Civil engineering etc. One of our solutions involves terrain mapping for a company which is engaged in civil construction. They require to reconstruct a 3D model by using a CAD system. The problem description was to have a process in place which can take recorded or live feed from a 3D camera, and LIDAR, and then transform it into an adequate set of data in a canonical format such that any other CAD system can use it to reconstruct the world in a 3D model.
High Level Steps of the Solution Were:
A drone fitted with 3D camera and LIDAR detector will make the flight on the area of interest. The AI drone is either pre programmed on a pre-coordinated path or by using manual navigation
The drone will follow the road/track with the help of external/pre-planned navigation.

The drone will do the recording from its both sensors, and either broadcast the live stream, or record it in the on-board storage.

The 3D camera data will be a video feed, whereas LIDAR data will be point cloud data.

Both types of data will be geo tagged with proper timing information.

The required

system

will take input from the drone.

The system using the geo coordinates, and timing information to create mapping data based on point cloud, and textures from the 3D camera feed.

This will provide altitudes, bumps, and objects on the surfaces.

The texture will provide information on the object, and surface boundaries.

The system, using the computer vision (CV) techniques, will identify boundaries of the roads.

The system will record the prepared data in a format that can be used by specific third party CAD systems

.
We work closely with clients to create custom solutions that complement their business. Our solutions are designed to help clients analyze aerial drone survey data, create models, and derive actionable insights.

Analyze the range of aerial data from camera images and videos to information other sensors like thermal, LiDAR, etc. captured from drones.

We train our ML models and algorithms to your specific business use cases and to identify elements and anomalies.

Our solution distributes reports that outline analysis and identify anomalies that are discovered.
Do you require AI Terrain Mapping Services?
Drop us a line and our experts will provide you with a free 1-hr consultancy and discuss your project requirements!
LET'S TALK ABOUT YOUR PROJECT: