Image Segmentation Services
The Best of Pixel-Level Image Segmentation and Annotation by API, Powered by Humans!
Get in Touch Now
Image Segmentation Service by Folio3 AI
Highest Degree of Efficiency and Accuracy
Folio3, a pioneer in the field of Computer Vision, AI, is revolutionizing the industry with the seamless image segmentation services. It is a solution that the world has been waiting for, and that is Human-powered pixel-level image segmentation and annotation by API. Folio3 has the best professionals on board, and it further enhances its performance by incorporating machine learning in unique ways.
Whether it's an image, video, or a 3D shape, Folio3 will turn your unannotated images into annotated. Submit your data and get segmented and labeled ground truth data.

Folio3's image segmentation solutions are designed to produce 3D tracking by accepting sequences of temporally linked frames.

The seamless 3D labeling functionality is what makes Flio3's image segmentation solution capable of supporting a growing number of labels for 3D labeling.

The platform provided here is sensor-friendly, regardless of the type. You can send over data from any kind of sensor, and Folio3 will offer a complete 3D scene.

Identifying Objects and Analysis
Our AI Segmentation Solution turns your unannounced images into annotated images with bounding boxes around objects of interest.
Explore our other pre-built models
Products made using IBM Watson
Converse Smartly - Speech to text converter
The development of an advanced speech recognition web application Converse Smartly® helped establish Folio3's strong footprint in the use and application of Machine Learning, Artificial Intelligence and Natural Language Processing.
Converse Smartly® enables organizations and individuals to work smarter, faster and with greater accuracy. The advanced features of the application can be used to analyse dialogue or speech from team meetings, interviews, conferences, seminars and even lectures into text - feel free to give it a try today!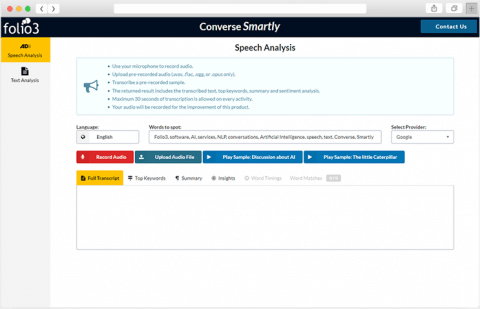 Applications of Image Segmentation
Watson is well-suited for a wide variety of applications and IBM is working closely with partners to address more and more of them. Folio3 can work on the in the following applications of IBM Watson

Our tools and workforce are trained to assign semantic labels such as "road", "car", "sky", or "person" to power the future of autonomous vehicles.

Careful semantic segmentation teaches drones to navigate around rooftops, trees, and birds.

Computer vision enables robotics to tackle new horizons in manufacturing, energy and health-care.

Identifying people and images thorough AI and processing images based on the data. Can also segment images from a video, picture or any other form of content.

Detecting and categorizing the type of disease and the condition of the patient by looking at x-rays, MRI and other reports.
Want AI powered image segmentation services?
Drop us a line and our experts will provide you with a free 1-hr consultancy and discuss your project requirements!
Image Segmentation Solution for Enterprise
Every Image Has Purpose
Mage segmentation is a revolutionizing computer vision and is paving the way for a high-tech future. It is due to efficient image segmentation that the world has high hopes of rapid innovations such as autonomous vehicles, drones, and robotics.
Image segmentation solutions are helping the tech world proceed with advancements much rapidly today. The things that were once considered miracles are now possible with technology. The manufacturing and automotive industries are the industries that are under the strong influence of technology.
In no-time, image segmentation will allow driver less cars on the roads, and the world will see highly advanced robotics! Folio3, with its smart image segmentation services, is contributing to a better future of the world.
No worries, let us talk you through the process. Contact us today for a free demo!
Why Choose Folio3 as your IBM Watson Partner?

Folio3 offers extensive expertise and experience by leveraging in-depth industry insight. We help clients achieve maximum potential by predicting loss points and providing actionable vision.

Our team of professionals includes more than 300 skilled developers with the right certifications and qualifications to address your every requirement.

1000+ Enterprise-Level Clients
Our extensive list of satisfied customers includes companies from a wide range of industries both public and private, including healthcare, manufacturing, retail and traffic management.
LET'S TALK ABOUT YOUR PROJECT:
Image Segmentation Services FAQs
What is image segmentation technique?
Image Segmentation Technique Classifications
Structural segmentation techniques
Stochastic segmentation techniques
Hybrid Techniques
Image Segmentation Techniques
Threshold Method
Edge-based segmentation method
Region-Based Segmentation
Clustering Based Segmentation Method
Watershed Based Methods
Partial Differential Equation-Based Segmentation Method
Artificial Neural Network Based Segmentation Method


What is thresholding in image segmentation?
The simplest technique in image segmentation is known as thresholding, which involves dividing image pixels based on intensity levels. There are basically three types of thresholding, including global, variable, and multiple.


What is watershed image segmentation?
One of the seven image segmentation techniques is the watershed image segmentation. It works upon the concept of topological interpretation. The intensity here represents the holes in basins having minima. It is the point from where the water spills. At the borders, adjacent basins merge. The pixels with a higher gradient serve as continuous boundaries.


What is point detection in image segmentation?
There are several discontinuities in a digital image, and the most basic one is the point. Point detection is an approach to finding discontinuities is to run an (n n) mask over each point in the image.
Image Segmentation – Helping Devices Understand the World
The most complex yet phenomenal innovation in technology is Artificial Intelligence – AI. It is safe to say that AI will be the future of the world as it is brining high-tech solutions to the world, adding convenience, comfort, and peace of mind in our lives. It is gaining popularity in all major sectors of the world and has paved the way for a powerful computer vision.
A product of advanced computer vision is image segmentation, which is laying the ground for a high-tech future, where technology will rule every aspect of our lives!