AI-driven Software for Drones
From aerial mapping and modeling to tracking and analytics, our AI Software can
power you drone to provide real-time data and analytics.
We Use Artificial Intelligence to Unlock the
Potential of Aerial Data

Credentialed pilots deploy visual, thermal, LiDAR, or multispectral sensors to collect data over your assets.
The data gathered is processed by custom-made AI algorithms that interpret the data and provides a complete report in the form of dashboards.

We use AI to automate and empower the drone to perform tasks independently without human intervention based on the data and analysis.
AI Drones Platform/Applications in Real World
AI drones can find their use in multiple procedures in the real world. In addition to AI, computer vision technology enables these smart machines to perform visual data analysis and image-based functionalities. These modern image-based functionalities could revolutionize the methods used by various industries to utilize the visual data.
Drones with computer vision technology can take and process high-quality visual data to gather information instantly in real-time. This instant visual data analysis enables companies from various industries to enhance their operations and reach the goals in the given time. These drones can be applied for procedure automation in multiple fields like livestock management, terrain mapping, precision agriculture, and other industries for enhanced functionality and flawless automation.

Folio3 Offer Drone Artificial Intelligence Automation Solution
Folio3 is a leading developer and provider of AI-backed intelligent solutions that provide drones for automation of procedures to assist companies from different verticals. Drone AI could be beneficial in the automation of various processes. Some previous proven applications of drone automation are given below.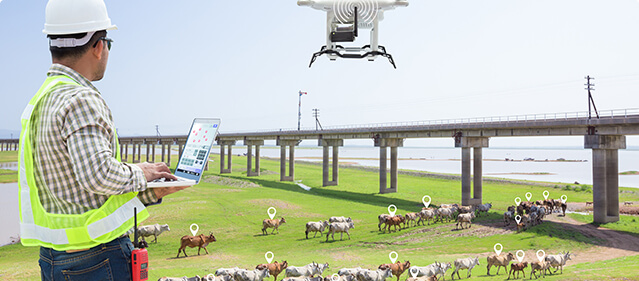 Livestock Management
Folio3 has helped some great names in the livestock business for automation of various procedures involved in livestock management through an AI-backed drone platform. A system like counting cattle could be really time consuming.
Making this procedure automated with the help of drones powered with artificial intelligence has helped these companies in reducing the time and effort required for the process considerably. Similarly, identifying unhealthy animals and taking necessary actions to prevent further harm would also take a lot of time if it is done manually.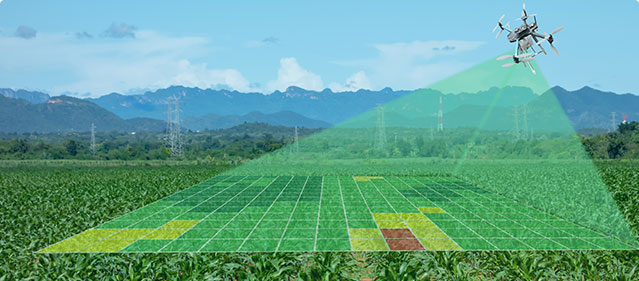 Terrain Mapping
The use of AI-backed drones in civil engineering has also done wonders. The use of drones for automated terrain mapping would make this procedure flawless, which is a dire need in the field of civil engineering. Folio3 has developed AI solutions for this purpose.
Drones ensure the live recording of the area under consideration through 3d cameras. This feed can be used to collect data for the construction of 3d model through various CAD systems. The drone equipped with 3d camera and LIDAR detector is deployed over the filed or area under consideration.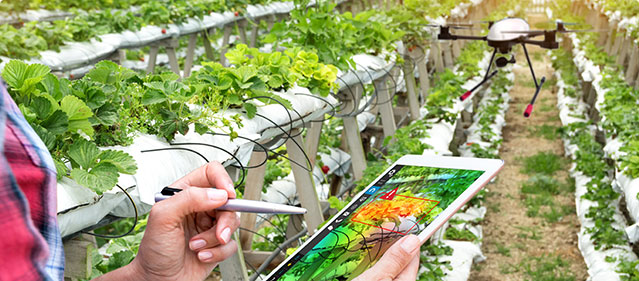 Precision Agriculture
The agriculture industry faces a lot of issues due to a variety of factors. These issues include a lack of natural resources, climate change, sluggish labor, and increased input costs. To overcome these challenges, Folio3 has developed various solutions using drone automation, IoT, and other technologies.
Our solutions would help industrial farming companies and small or medium-level farmers as well. Our solutions would help farming industries to make the right decisions in time to enhance the yield production and prevent any harm to the crops.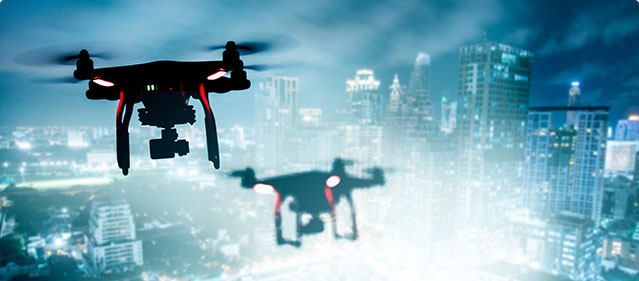 Other Uses
In addition to above-discussed applications, Folio3 also provide Artificial Intelligence backed drone solution for various other application like change-detection and crack-detection to automate the procedure of identifying the real flaws responsible for limiting the functionality of any system.
AI Drone Technologies Used by Folio3
Folio3 makes use of multiple cloud-based and open-source technologies to develop drone solutions backed with AI. Some of these technologies are listed below under their respective categories:
Cloud Technologies
Folio3 incorporates multiple cloud technologies in the development of AI drones. These technologies are discussed briefly, below

Folio3 includes Google AI technology to train the TensorFlow backed drones. Millions of photos available through Google AI cloud technology are gathered to train machine learning models programmed for the drones. It enables drones to upload high-volume image data faster. The tagged image data points for the detection of various situations accordingly with the supposed use of drones.

Folio3 also uses AI cloud technology for drones by Microsoft. As DJI leading civilian drone manufacturer and aerial imaging technology provider have announced a strategic partnership with Microsoft, Folio3 also took notice of this development and started incorporating cloud technology by Microsoft like Azure cloud in the development of AI-backed drone solutions.

Folio3 always look to deliver the best by incorporating various technologies. The same is the case with drones. Amazon also provides cloud-based AI technologies for drones. We incorporate cloud technology for drones by Amazon in our drone AI solutions.
Open-Source Technologies
Here are some open-source technologies used by Folio3 in development of drone solutions

TensorFlow is a widely used end to end deep learning the open-source platform. Folio3 also utilizes this deep learning platform to train the drones for image processing and various other functions. It enables drones to classify, percept, understand, and discover the object and situations to act accordingly without any interference from human beings.

Pytorch is also an open-source machine learning platform. Folio3 utilizes it in the process of training drones for image processing, identifying, and understanding the objects. It is a machine learning library for python and is employed by our developer's team after analyzing the functionalities and fields where the drone is supposed to use.

MATLAB is a tool to implement algorithms and mathematical calculations in programming. It is widely used in the development of AI drones to implement and utilize the working algorithms in the programming of drone solutions. Folio3 also utilizes this platform for the implementation of algorithms in the development of AI-backed drones.
Drones have found their use in multiple industries. As the world is moving towards automation, AI drones are playing a crucial role in it. The automation of industrial procedures requires the drones controlling industrial processes to make decisions on their own and AI enables these drones to do so.
Drones powered with AI are trained to supervise procedures and perform required operations as per the condition without requiring any command from humans. The AI drones, thus, help in the automation of industrial processes while reducing the need for human effort to a minimum.
It doesn't drive human beings out of the scene, totally. Human beings work to train, maintain, and monitor the operation of autonomous drones. The automation of various procedures can be beneficial in saving time and effort. It also reduces the chances of errors in any process to a minimum.
The reason is, AI drones are trained to monitor and operate procedures with perfection. With reduced time, effort, and chances of mistake, these smart devices automate various systems and help in increased revenue in various industries.
LET'S TALK ABOUT YOUR PROJECT:
When was the first time drones used ai?
The answer to this question remains a secret but it is theorized that the use of AI in drones was first implemented by US military and CIA. The trend of AI drones with civilian use started in most probably the year 2016
What companies use drones?
The use of drones in industrial procedure is not a privilege now, but the leading companies using drones in their business procedures include Walmart, Shell Oil, Amazon, DHL and the BBC.
What is a drone killer?
Drone killer is used to neutralize and disable UAVs or drones. It is a handheld device that uses radio technology to identify and disable drones.
How will AI drone software reduce human error in the commercial world?
Humans can be complacent and negligent. Even a bit of error on their part can lead to disastrous consequences. Ai-powered drone software helps avoid just that. Not only do these drones never make mistakes but they are also extremely precise. Hence, they are now used by industries worldwide to avoid inevitable human errors and ensure a safer environment for all.
How do I sign up for Folio3 AI-based drone software?
You can easily sign up for our AI-based drone software via our Contact Us page. All you need to do is help us learn a bit more about yourself by filling out the information and sending it to us. Once we receive your information, our expert team will get back to you and guide you through the process.
Are autonomous drones AI?
Yes, autonomous drones are UAVs (unmanned aerial vehicles) that use AI-powered software for navigation and operations. AI enables drones to take autonomous flights and collect and analyze real-time high-quality visual information for many real-world tasks. With the help of AI, these drones can support operational tasks in various industries, including but not limited to agriculture, healthcare, and transportation.