AI in Sports: The Future of Performance Optimization
AI is revolutionizing the way athletes and teams perform, from optimizing training routines
to predicting game outcomes.
Go Beyond Just Using Data and Take Actions at The Right Time With AI In Sports
Fusing AI and Sports for Smarter Decisions On and Off the Field
Player Performance Analysis

Analyze player performance data such as speed, agility, and endurance, as well as tracking player movements and interactions with other players to identify strengths and weaknesses

Personalized Training and Diet plans

Keypoint skeleton models can be used to identify human joints and provide the user with guidance on how to exercise the right way with a customized diet plan for every individual player
Game Strategy
Analyze game footage and predict opponent behavior with AI. Teams can develop more effective game plans, leading to improved overall team performance

Fan Engagement
By using AI to analyze fan behavior and preferences, teams can tailor marketing campaigns and promotions to individual fans, leading to increased engagement and revenue
AI Coaching
AI-powered coaching can help athletes optimize their performance by providing analyzing their performance data and providing real-time feedback on their technique and form
AI Referee
A computer vision system combines the data streams to track each player's location and pose. It watches for off-side violations and alerts human officials when an offside player touches the ball
Match Analytics

Using data and visuals, coaches are able to gain insights into their teams' strengths and weaknesses on any current day, allowing them to make changes to tactics and strategy, thereby exploiting any weaknesses of their opponent
Sponsorship Monitoring

With machine learning-powered tools, sponsors can track how often their brand logo is shown during live broadcasts of the games, how long it is displayed, and even how visible it is on the screen, measuring the ROI by analyzing video feeds.
Our Demo For AI Activity Detection
Use the AI Activity detection model by Folio3 AI for real-time tracking of ball and player movements to determine ball and player speed, size, and position
Activity and Object Detection for Tennis
With offices in North America, Europe, and Asia, this organization is the top manufacturer of wireless portable digital magnification cameras that provide real-time video transmission and works with resellers and dealers worldwide. Folio3 developed a state-of-the-art computer vision-based AI solution that processed high-resolution images and videos of the tennis ball in real-time to determine the ball's exact location in a game.
Expertise used
Object Detection, Object Tracking, Real-Time processing
Industry
Wireless Camera Manufacturing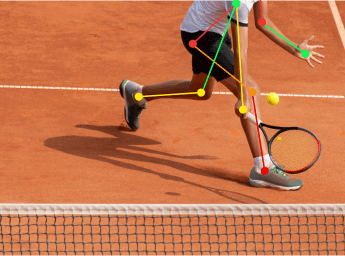 AI Custom Solution, Ready To Deploy Within A Month
Get real-time insights from your live video feed and monitor game score and analytics
Continuous AI Model Training
With continuous model training, the integrated system gets smarter as more data is collected
Analytical Support for Decision Making
With faster, more accurate, and AI-powered personalization, customer satisfaction will be improved
Enable necessary efficiency and overcome challenges in your restaurant business with scalable and tailored AI solutions.
By analyzing fan behavior and preferences, AI can optimize ticket sales, merchandise sales, and sponsorships
AI-powered chatbots can help answer fan questions and provide a personalized experience. Along with Real-time statistics, highlights, and interactive content for audience engagement
By analyzing data from sensors, cameras, and wearables to provide insights that help athletes and coaches optimize their game
Automate repetitive and time-consuming tasks such as scheduling, data entry, and reporting. This can free up valuable time for athletes, and coaches
Why Do Customers Choose Folio3?

We have developed purpose-built AI solutions that help maximize performance based on more than 15 years of experience. We have worked in various scenarios that help us identify your problem quickly and develop insightful solutions!


Certified Software Engineers

With innovative tactics and tailored solutions created just for businesses, our AI professionals assist enterprises in resolving critical issues that limit performance.

1000+ Enterprise-Level Clients
Over the last 15 years, we've built an extensive client base of delighted customers!


20+ Pre-built Models Deployed
We have worked on multiple projects deploying more than 20 pre-built AI models on various projects globally
Looking for a similar solution? Our solutions can be customized to your needs.
Book a free 1-hr consultation on how AI can help with your sports business.
LET'S TALK ABOUT YOUR PROJECT: