AI Visual Inspection Solution
Completely transform quality control with AI-powered Visual Inspection
Redefine Visual Inspection with AI
Leverage the power of AI to fully transform your visual inspection processes, by accurately detecting defects and delivering key insights that enable you to boost production productivity, efficiency, and ultimately ensure product quality.
How AI Visual Inspection Helps?
Conventional inspection processes are prone to human error that can lead to issues causing recalls, dissatisfied customers, and ultimately hits the bottom line. An automated inspection system powered by AI, if implemented properly, can greatly transform your business processes that can mitigate the risk of human error and even reduce the overheads.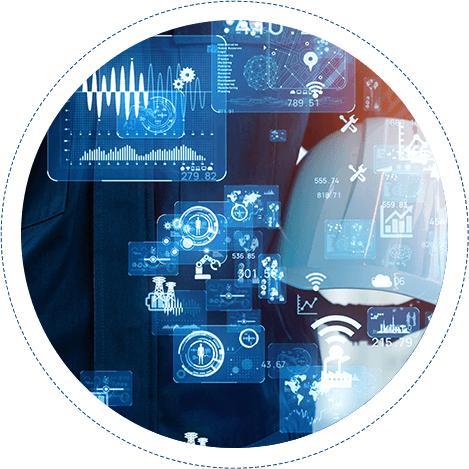 Our AI Visual Inspection Solution
Our solution leverages computer vision algorithms, machine learning, and big analytics to help manufacturers to keep up the new wave of industrial transformation and become increasing competitive. Our solution efficiently automates the visual inspection process and helps manufacturers maximize their quality and lower costs by screening faulty products before they are released from the production floor.

Train the system to detect faulty products accurately and save time and cost.

Our solution can be tailored to work for your specific requirements and create unique advantages for your business.

With the power of AI, our solution keeps on learning to keep on improving the accuracy.
Explore our other pre-built models
Other Computer Vision Applications
We have built solutions to cater to a number of different use cases and scenarios.

Leverage drones to map terrain, detect characteristics, and find anomalies. From identifying buildings and structures using LIDAR tech to detecting anomalies like landslides, etc.

Utilize AI to detect pests, diseases, and other factors like water distribution before they become a problem for your business operations.

Boost the productivity of your ranch by accurate cattle and livestock counting, detection of predators in your area, and monitoring the quality of pastures.

Conduct timely and quick inspections of your pipeline infrastructure by identifying anomalies such as damage, spillage, illegal encroachment, and theft.

Enable faster, frequent, and accurate inspection of your solar energy farms to improve longevity by timely maintenance.
With over a decade of experience in delivering digital transformation solutions in different verticals, from AI solutions, enterprise applications, and mobile apps, we have the expertise to become the technology provider you need to create a lasting competitive advantage.

Our solutions are completely customizable and can be configured to meet your specific needs.

We provide the best value for services delivered so you don't have to break the bank.

We are a one-stop technology partner that can help you build, integrate, and scale with ease.

Our solutions are built to be ready to scale as your enterprise grows larger.
LET'S TALK ABOUT YOUR PROJECT:
what are the core symptoms identified by medical diagnosis software?
Medical diagnosis software can identify various symptoms like through image processing, it can find the unusual growth of molecules in cells, which could be a symptom of any potential disease. Like it is used to count the HER2 genes in molecules, which could be a factor for potential HER2 positive breast cancer.
What's the future of medical diagnosis software in upcoming years?
As the world is transforming towards automation, the diagnostic procedure would also require automation for precise results and analysis. This would increase the demand for the use of medical diagnosis software in diagnostic equipment to ensure comprehension and absence of error in diagnostic results.