AI Terrain Mapping Solutions
We build bespoke solutions that help your business capture,
analyze, and visualize your environment.
AI-Driven Terrain Mapping Data & Analytics
Our custom solutions are designed to help you map, model, and inspect your environment or terrain. We build solutions that are designed to fit the specific needs and requirements of your business. Leverage AI to automate your surveys and inspections utilizing your drones to streamline analysis and reporting, ultimately increasing efficiency and reducing cost.
How AI Helps in Terrain Mapping?
Artificial Intelligence based solutions for terrain mapping can help businesses turn simple raw footage or aerial data into actionable business intelligence. From monitoring and counting cattle, scouting acres of farmland, inspecting miles of pipeline, or hundreds of utility towers, AI can help identify issues that can help avoid catastrophic failures and critical problems. In addition, this will also drive your overall inspection and surveying costs down.
AI-powered solutions using drones conduct inspections much faster and cost-effectively than a team of experts or helicopter surveys.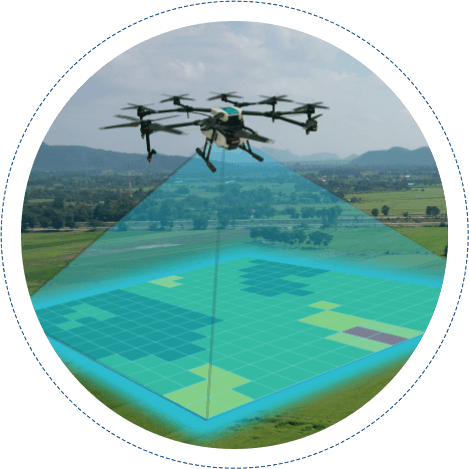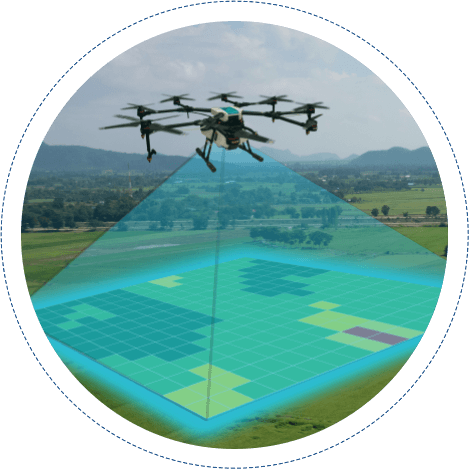 You can collect a massive amount of data using drones, our solutions can help you process and analyze that information to create meaningful and actionable insights. We utilize AI and computer vision to extract the most value from your aerial data.


Efficient Data Processing
Utilize AI and computer vision to take care of annotation and data aggregation to maximize accuracy and speed.


Leverage our solutions to create meaningful maps, terrain models, surveys measurements from aerial drone data.


Get comprehensive reports delivered to relevant stakeholders across your organization.
We work closely with clients to create custom solutions that complement their business. Our solutions are designed to help clients analyze aerial drone survey data, create models, and derive actionable insights.

Analyze the range of aerial data from camera images and videos to information other sensors like thermal, LiDAR, etc. captured from drones.


We train our ML models and algorithms to your specific business use cases and to identify elements and anomalies.


Our solution distributes reports that outline analysis and identify anomalies that are discovered.
RPA Case Study
Square Trade
Predicting Thalassemia through Gel Electrophoresis
Gel electrophoresis is a laboratory method used to separate mixtures of DNA, RNA and proteins according to molecular size. It is a very time consuming method which is used to identify the thalassemia status of a patient. In gel electrophoresis the molecules to be separated are pushed by an electrical field through a gel that contains small pores. The client required a cost effective solution which would automate the otherwise error prone manual process of the prediction of thalassemia through image analysis of gel electrophoresis. After assessing the client's requirements we worked on developing a state-of-the-art image analysis solution which provides an automated and error free analysis of gel electrophoresis images to predict the thalassemia status of patients.
Do you require AI Terrain Mapping Services?
Drop us a line and our experts will provide you with a free 1-hr consultancy and discuss your project requirements!
LET'S TALK ABOUT YOUR PROJECT: