Azure Machine Learning Service
Azure Cognitive Services combine machine learning and
AI to analyse text for emotion and sentiments and images
to identify objects and people.
Azure Speech-to-text Services we offer

Machine Learning
Based Automation
Get productivity improvements at all levels with our automated Azure Machine Learning Service. We enable rapid deployment and with our robust models.

Robust Azure Machine Learning Service for DevOps powered by machine learning that streamlines the ML lifecycle from model building to execution and monitoring.

Custom AI solutions built to offer better security and efficiency. Each AI solution perfectly syncs with the needs of your business for better management and control.

We offer some of the best support available in the market. We have a team of dedicated professionals geared to address every Azure Machine Learning Solution query you may have.

Folio3 offers an Azure Cognitive Service that is built to stand the test of time. Using the best API's, we help businesses automate functions by embedding the ability to hear, speak, listen and talk to create the most intelligent apps.

We effectively leverage Event Grid, Service Bus and other Logic Apps, including comprehensive API Management to create winning, robust integration solutions with a variety of platforms and third-party apps.
Custom IBM Watson
App Development
At Folio3, we excel in developing custom apps for using Watson technology to take your business to the next level with our Azure Machine Learning Service.

Support & Trouble-
shooting Services
Our developers are available at all time for troubleshooting, administrative services, productivity enhancements or routine maintenance with minimal downtime.
Products made using Azure ML Service
Converse Smartly - Speech to text converter
The development of an advanced speech recognition web application Converse Smartly® helped establish Folio3's strong footprint in the use and application of Machine Learning, Artificial Intelligence and Natural Language Processing.
Converse Smartly® enables organizations and individuals to work smarter, faster and with greater accuracy. The advanced features of the application can be used to analyse dialogue or speech from team meetings, interviews, conferences, seminars and even lectures into text - feel free to give it a try today!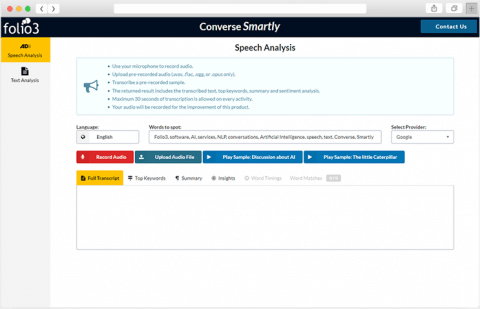 Applications of Microsoft Azure Machine Learning Services
Azure Machine Learning Services are ideal for most speech conversion purposes. At Folio3, we pride ourselves in offering only the best in Azure Cognitive service utilisation with some of the following applications:
Develop AI bots using Azure Machine Learning Service, including Q&A bots and virtual assistants.
Azure Databricks is a robust analytics platform that helps make sense of your data.
Index-based search powered by AI for unstructured data from images using Azure Cognitive Service.
Smart and powerful Bing auto suggest features for your app with Azure Cognitive Service.
The Bing Custom Search API gives you a robust search index with quick setup parameter adjustment.
Automatically add entity data from the internet to help refine search and indexing.
Enable comprehensive image search with Azure Cognitive Service.
Bing News Search powered by Azure Cognitive Service provides relevant results every time.
Never miss a beat with automated and accurate spell check powered by machine learning.
Effortlessly search through videos based on advanced Azure Speech to Text services.
Image input-based search made easy with Bing Visual Search powered by Azure Cognitive service.
Get the best in web search capabilities with Azure Machine Learning service.
Azure Cognitive service enables contextual interactions with digital assets in a powerful way.
Get meaningful insight from visual input automatically with Azure Machine Learning Service.
Content Moderator API for automatically flagging visual content for potentially offensive material.
Custom computer vision for optimising operations without the need for machine learning expertise.
Data Science Virtual Machines
Get holistic, ready virtual machines for data science modelling and development.
Automatically detect, organise and tag faces in photographs with Azure Cognitive Service.
Azure Machine Learning Service brings powerful AI to ML applications for superior automation.
Comfortable and smooth environment for building ML solutions with our Azure Machine Learning Service
Take advantage of Microsoft's experience in running exabyte-scale workloads for genetic sequencing.
Seamless, front-end speech translation with Azure Cognitive Service and REST API call.
Customise cues and commands from users in the context of your organisation and business processes.
The Azure Form Recognizer uses advanced ML to extract critical data from forms accurately.
Automatically identify digital ink content, such as handwriting and shapes and signatures.
Personalised our Azure Machine Learning Service to better suit your particular needs.
Make useful and engaging Q&A conversations with Azure Cognitive Service that encourage further action
Identify multiple speakers and distinguish between them automatically for a complete transcription.
Seamlessly integrate speech translation with your app in real-time and in context
Effortless Speech to Text conversion for better understanding and communication.
Analyse text for sentiment and emotional evaluation to determine further action.
Easily convert text back to speech with Azure Cognitive Service and its powerful AI
Easy to use and contextually accurate machine translation for quick processing of text.
Comprehensively tag and index videos with Azure Machine Learning Service automatically.
Developer kit and PC peripherals equipped with AI for building computer vision and speech models.
Incorporate anomaly detection capability for apps with Azure Cognitive Service and minimise loss.
Expertly organised, cloud-based Azure Open Datasets to accelerate the development of ML solutions.
The Microsoft immersive reader enhances the reading experience by improving the readability.
Do you require Azure Machine Learning/AI Services?
Drop us a line and our experts will provide you with a free 1-hr consultancy and discuss your project requirements!
Why Microsoft Azure ML/AI services is the best choice for you?

Boost productivity and access ML for all skills
Encourage productivity improvements by augmenting your processes with our Azure Machine Learning Service. We help you deploy machine learning models that meet your every need regardless of the challenge. You can accelerate the creation process with automated machine learning UI and unrestricted access to built-in features for developing highly accurate models.

Operationalise at scale with robust MLOps
At Folio3, we offer Machine Learning DevOps or MLOps specifically intended to streamline the entire Azure Machine Learning Service delivery process. Our DevOps simplify the machine learning lifecycle with end-to-end development, deployment and management services. You can use specialised ML pipelines to build replicable workflows, and efficiently manage your assets with a comprehensive and in-depth registry. Smoothly scale-up workflows and operations and develop an enterprise-ready solution.

Build responsible AI
solutions
Azure Machine Learning Service gives you advanced tools for managing fairness and transparency of your machine learning models. You can use model interpretability to understand predictions and their subsequent applications better . You can also apply fairness metrics to make comparisons and use the recommended mitigation strategies automatically.

Innovate on an open and flexible platform
Azure Machine Learning Service is one of the most flexible platforms available with the right mix of tools to see you through most application deployments. With Folio3, you can get built-in support for a variety of open-source tools and frameworks specific to machine learning model training and inferencing. Azure Cognitive Service also offers support for other common frameworks such as PyTorch, TensorFlow and scikit-learn as well as the ONNX format.

Advanced security, governance and control
With Azure Machine Learning Service, you can build machine learning models using enterprise-level compliance and security policies and virtual networking technology. You can effectively protect your assets using built-in identity, data and network access control, including assigning custom roles to individual members of your team. In the same way, you get governance controls with a comprehensive trail of audits, quotas and an extensive compliance portfolio.
No worries, let us talk you through the process. Contact us today for a free demo!
Why Choose Folio3 as your IBM Watson Partner?


Folio3 offers extensive expertise and experience by leveraging in-depth industry insight. We help clients achieve maximum potential by predicting loss points and providing actionable vision.


Our team of professionals includes more than 300 skilled developers with the right certifications and qualifications to address your every requirement.


1000+ Enterprise-Level Clients
Our extensive list of satisfied customers includes companies from a wide range of industries both public and private, including healthcare, manufacturing, retail and traffic management.
LET'S TALK ABOUT YOUR PROJECT:
Azure Machine Learning FAQs
Where is Azure Machine Learning Available?
Azure Machine Learning is available in Canada and the United States
Can Azure Speech to Text API be integrated with my app?
Yes, it can be integrated with most apps built on compatible platforms.
Where are Azure Cognitive services available?
Azure Cognitive Service is available in most countries around the world. Click here to learn more
Is azure machine learning service studio free?
Partially. The first 12 months are free after which you have to pay for your services.
How would you best define the azure machine learning service studio?
The Azure Machine Learning Studio is the leading resource for machine learning services. It provides a central workspace for data scientists and developers for building, training and deploying machine learning models.