Clothing Detection Solution
Accurately detect and identify apparel and clothes-related images
in a feed, video, on social media feeds, or other fashion media.
Automatically Detect Clothes and Classify
Use the power of AI to identify clothing and recognize apparel types in images. This opens up a plethora of possibilities for you by making your images searchable. Whether you're working in fashion, looking for fashion insights, or simply want a social media analytics tool, our solution enables you to dig deep into image data and extract valuable insights.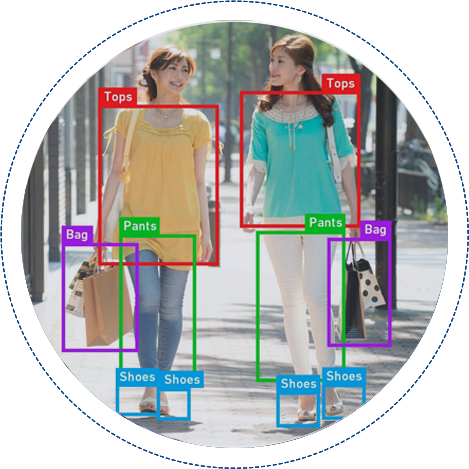 Clothes Detection Solution Features
Our solution leverages the power of AI to detect and classify clothing and deliver the results using comprehensive reports. With our experience as a bespoke solutions provider, we can tailor our solution to work in a variety of use cases without you having to break the bank like with most off-the-shelf solutions available.

Detect
Detect different articles of clothing/apparel in image and video feeds.
Classify
Classify different types of apparel via annotation.
Moderate
Flag images of products that don't conform with your criteria


Reports
Generate reports for findings.


Customize
Fully customizable, you can add custom functionality on top with ease.
You Choose the Deployment Model
We can deploy the solution and make it available as needed.
Frameworks Used for Clothing Detection
The solution/model is built utilizing frameworks that provide the maximum benefit to you, whether you're looking for feasibility, viability of tech, or maturity of the platform. We can easily work with platforms of you choice as well to ensure the minimum friction between your systems.
Got more questions? Interested in the pricing?
Let's walk you through the process. Contact us today!
LET'S TALK ABOUT YOUR PROJECT: