Livestock Management Solution
Powered by Foli3 AI
Use of Drones in Solving Your Livestock Management
As part of a series of projects where AI-powered drones are being used to solve real-world problems, Folio3 is now offering a solution for livestock management through the use of Artificial Intelligence.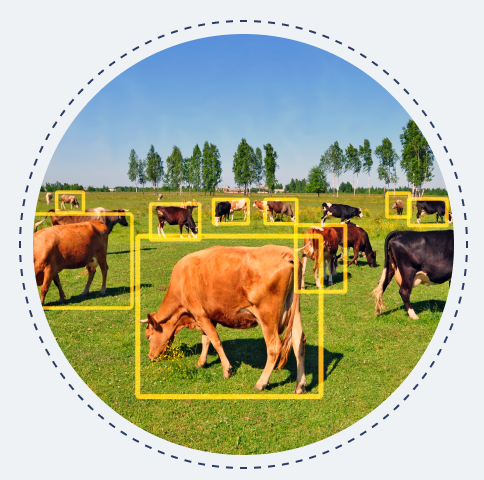 AI Drones & Livestock Management
Drones have been in use for agriculture for a while now. A similar concept can be used to track and monitor livestock by using drones to obtain an aerial overview of the animals. Drones mounted with thermal imaging cameras can take high-definition pictures to monitor the livestock remotely, identifying any issues in real-time so that they may solve any problems quickly and efficiently.
Folio3 & Livestock Management
Folio3 has been working for the automation of various tasks that involve the well-being of livestock. In addition to developing conventional software, we have also taken advantage of the increasing use of artificial intelligence, machine learning, computer vision, and AI-powered programmable drones. Through our extensive experience building animal care software solutions, we can optimize your management procedures and practices on multiple fronts, such as livestock counting and health management.
The key to the productivity of livestock is their health. Our proprietary solution CattlePal is designed specifically to manage the well-being of livestock. Drones mounted with thermal cameras collect the relevant data of the animals and send it to cloud servers. Our smart camera system collects video data onsite, which is then used for supervised training.
Are You Ready to Leverage Livestock Management?
We offer our clients the opportunity to create their own machine learning applications.
LET'S TALK ABOUT YOUR PROJECT:
Livestock Management Solution FAQs
What is livestock production and management for farmers?
Livestock production and management are coherent processes that cover animal care, business management, and related services. These enable farmers to manage their livestock enterprise more efficiently. They also streamline and refine health processes such as nutrition, reproduction, genetics, and carcass evaluation, along with creating ease in the business aspects of farming such as accounting.
What is nutritional management in livestock?
Nutrient management covers the management of nutrients in animal feed and manure. It is a very complex process that starts with feed, either produced or bought. From calculating the amount of feed for livestock based on their type and age, to urine, feces, bedding, and waste feed for fertilizers, it remains a key process throughout the livestock operation.
What are the key points of livestock management?
The main objectives that livestock management aims to address are as follows:
Conservation of natural resources by utilizing capital better to enhance productivity.

Expand production while keeping the costs to the environment in control.

Optimize the allocation of development resources to enhance productivity.

To make the planning process simple and transparent.

Analyze

current performance and prescribe

programs

accordingly.

Formulate policies to address constraints and potentials.
What are the limitations of RFID technology in livestock management?
Radio Frequency Identification (RFID) tags allow farmers to identify livestock animals by stamping them with a unique number. Depending on the technology, these can be tamper-proof, electronic chips that can also be read by electronic reading devices. RFID facilitates livestock management to a great extent but there are some limitations to its usage, especially if the environment becomes non-supportive such as with the accumulation of dust. RFID generates huge volumes of data that can be difficult to manage. Moreover, a reduction in signal strength may not support longer reading ranges.