Create a Seamless Search Experience On Your Website
Let us help you create a smart search experience that enables you intelligently show results to your user's search queries quickly thereby allowing you to maximize conversions and create a seamless shopping experience.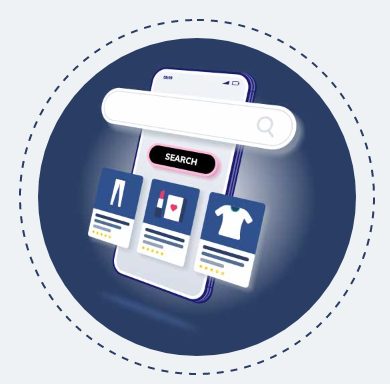 Multifeatured Solution Tailored to Your Needs
Deliver search results that are optimized for your user's needs and drive purchase decisions. These analytics are designed to maximize relevance and control search results to show the best results for your users.

Autofill search fields as they are entering the query with the most relevant results

Enable users to do advanced searches like adding sizes and colors to their searches

Enable quick spell checks on user queries as they are entering queries
We Can Build On Your Platform of Choice
We build and deploy solutions for different platforms and eCommerce stores of any size. Our solutions are built for enterprise and can scale as you grow your business.






Folio3 offers extensive expertise and experience by leveraging in-depth industry insight. We help clients achieve maximum potential by predicting loss points and providing actionable vision.


Our team of professionals includes more than 300 skilled developers with the right certifications and qualifications to address your every requirement.


1000+ Enterprise-Level Clients
Our extensive list of satisfied customers includes companies from a wide range of industries both public and private, including healthcare, manufacturing, retail and traffic management.
Looking for a Similar Solution? We Can Build Bespoke Solutions Tailored to Your Specific Needs.
Book a free 1-hr consultancy with our experts!