Particularly during the Covid epidemic, healthcare is becoming more crucial and necessary. Numerous hospitals have realized that their resources match their needs, so they are eager to develop new IT infrastructure. There are many approaches to take since those who already have one in place could want to replace it. People are moving toward staff augmentation for various reasons, particularly in fields like healthcare.
For instance, data and analytics are crucial to the healthcare sector. While most core businesses have teams established specifically for these tasks, many others require the support of additional IT personnel; hence, they hire ML developers on a temporary contract. Finding the right fit is all it takes for staff augmentation to effectively help you increase your team in the way you desire. Various businesses provide various staff augmentation options; which one you require depends on your unique needs.
Thus, we end up with this topic for our blog today 'Staff Augmentation for Health Technology Clients"; so that the healthcare tech clients get to a hire machine learning expert with an easy process, where you will get to learn a handful of basics of Staff augmentation, what it has to do with healthcare, benefits and more.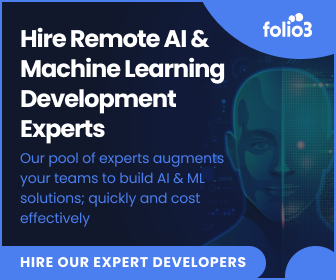 What Is Staff Augmentation?
To successfully staff their projects and meet submission deadlines, the firms hire machine learning experts by outsourcing. This method involves assessing the current workforce and identifying additional proficiency.
To put it simply, staff augmentation is the temporary use of outside workers to increase an organization's capacity or to temporarily hire ML developers by outsourcing the talent and helping the organization work with extra pair of hands.
Additionally, businesses can lower their payroll service, recruitment, and project implementation expenses by utilizing staff augmentation services. Due to the simplicity of this hiring model's scalability, it is incredibly simple to cancel this kind of collaboration without terminating an employment contract.
Types of Staff Augmentation
Before learning more about staff augmentation, we need to d be aware of its several forms. Three different staff augmentation methods exist, which are:
Highly-Skilled
You require extremely sophisticated abilities in fields like contract law, software engineering, and brand design.
Commodity
You don't require a precise skill set when hiring someone to perform manual labor, warehouse work, events, or retail duties.
Skill-Based
This type calls for a particular skill set, such as data processing, office administration, simple copywriting, transcribing, etc., but the necessary skill is not required.
How It Works…?
A firm needs the right resources and people at its disposal in order to be genuinely successful. Unfortunately, a company might not have the talent necessary to accomplish its objectives. At such a point, IT staff augmentation could be helpful. Let's take a deeper look at how it functions.
Whether or not business owners require staff augmentation services
Highlighting your outsourcing goals clearly is the first step in the process. This ensures that you are in the greatest possible position to assemble a group of gifted personnel with the drive, ingenuity, and expertise required to complete the project on schedule and under budget.
Next, give the correct talent source some thought. You should choose a technical staffing company that thoroughly vets its employees because not all are created equal. By carefully sourcing your talent, you may have confidence that your employees are ready for the task at hand.
Once you've assembled a team, it's critical to outline each member's tasks and responsibilities clearly. By doing this, you can ensure that everyone knows their responsibilities and that the project stays on schedule. To foster a strong sense of teamwork, encourage feedback and question-asking from team members at every stage of the process.
Providing Continued Assistance
Simply hiring temporary employees and letting them be is not sufficient. It's crucial to offer your team ongoing support if you want your project to be finished according to your deadlines and specifications. Even the most gifted employees require a leader to help them navigate the process.
Benefits Of Staff Augmentation Healthcare Tech Clients Would Reap
While both staff augmentation and project outsourcing have their advantages, the former is frequently preferable for project-based organizations since it allows for greater flexibility. With IT staff augmentation, businesses can engage outsourced talent as needed while maintaining direct employee management.
Additionally, IT staff augmentation enables businesses to save money gradually. With this special model, you can recruit temporary staff rather than full-time personnel, which might be very expensive. You just pay for what you require for the time that it is required.
Your business leaders can also save a ton of time by using IT staff augmentation. To hire full-time workers, you must publish job listings, interview applicants, and complete the necessary documentation. It allows you to cut down on time spent on hiring new personnel.
With team augmentation, you may engage as many IT specialists as you like. You can scale that team up or down as well. A UX/UI designer, two QA engineers, and iOS developers can all be used initially, but you can later work exclusively with Android or iOS developers.
You might be able to save hiring resources if you define staff augmentation in terms of your company's needs. However, you must adhere to the vendor's schedule in order to obtain personnel for your project. The level of expertise of the staff augmentation company alone determines the amount of time needed to hire augmented employees.
Make Up For Workforce Gaps
Starting with the option to hire based on needs, IT staff augmentation has a wealth of advantages. It can be a very helpful approach for growing your team if you need to fill any holes in your IT department. With staff augmentation, you may add qualified technical skills to your internal development team on a short- or long-term basis, depending on your needs. You can hire tech expertise globally.
What is Healthcare IT Staff Augmentation?
With an IT staff augmentation plan, you may create your own hiring criteria and pay attention to the resources you hire rather than accomplishing milestones. Filling in the skill gap in a particular area and avoiding the expense of employing developers and engineers are the main objectives of IT staff augmentation.
Over the years, healthcare has seen several advancements. However, its digitalization is the most significant. There are now autonomous devices for various medical needs, but maintaining them demands hard R&D. Many healthcare technology clients simply cannot locate the necessary resources in their area, and many cannot afford to engage separate IT teams. The solution to these issues is Staff Augmentation.
You won't have to worry about everything associated with hiring on your own when you use the staff augmentation services of a seasoned software development business like Folio3. You can hire as many engineers as you need, and most of these businesses also provide dependable support and maintenance workers.
How Can You Tell Whether You Need Health Care IT Staff Augmentation?
There are many reasons to outsource, and while you may have your own, this list of typical ones should convince you that you need to do so. While some of the reasons listed here may not apply to everyone, our advisors are available to help if you need to know if they would be appropriate for you. The majority of the reasons listed here are based on standard practices in the healthcare business. If you need to hire ML developers as a client of health technology, look over the list below.
Skill Gap
Location
Cost
Next-Gen Technology
Complex Projects
Time to Market
Small Projects
Models for Staff Augmentation
Depending on business needs, you may choose from various ways to use staff augmentation services and discover the best fit to hire a machine learning expert. Most businesses often offer three alternative models that are based on cost and specialized hiring. On the other hand, the unique Staff augmentation model we provide ensures that our clients always receive exactly what they want and how they want it. The models of staff augmentation are listed below;
Turnkey Project Model
The turnkey project approach is extremely common when outsourcing, although many people misunderstand it. Based on the turnkey approach, you won't have to be concerned about the quantity, per-hour costs, supplies, or resources consumed with staff augmentation. All you need to do is invest in the project instead of the cost per developer's hourly rate because our managers will arrange everything.
Custom Hiring Model
As previously stated, there are no restrictions when using a custom hiring model. You decide whom to hire, how much to pay per project or developer, how big to make your team, and whether to outsource some parts. It can also be implemented as a hybrid approach where you get the best of both worlds, increase team size by half, and outsource tasks that a software development firm handles better. Most of our healthcare clients typically favor this arrangement.
Time & Material Model
Staff augmentation typically involves team expansion, but to truly benefit from it, you also need to have staff material. The time and materials approach ensures that you are working with the greatest resources for the development technology you are working on by charging for both the developers and the materials.
Dedicated Developer Model
Clients who use the dedicated developer model typically have their projects in order and wish to bolster a team with a certain skill set. You may be sure that a developer you hire as staff augmentation will only work for you during that period if you use the dedicated developer model. It is a legal agreement that gives you total control over the resources and how you use them.
The Conclusion – Why Select Folio3 For Staff Augmentation?
Flexibility, transparency, dependability, and cost-effectiveness are the main advantages. The number of resources you could need won't be an issue if you use Folio3 for staff augmentation. You may find as many developers as you need from our vibrant team of engineers for the most widely used development technologies.
You can count on us to deliver on time and at your pace. To guarantee the solutions are created exactly the way you want them, most of our project managers have experience working in agile environments. As the development partners, we will recommend the best to hire ML developers based on your needs.
We have developers who specialize in AL, ML, Data Analytics, IoT, and other next-generation technologies if you intend to use them. When you share your need to hire a machine learning expert, our project managers and consultants will work with you to assemble the ideal team and set up everything according to your specifications.