Manually searching is time-consuming and only useful when you know the product's name and model. Unfortunately, that is what most customers said they encountered when looking for a specific item or alternative. The procedure takes a long time and is exacerbated by other typical issues with internet shopping (long delivery, faulty search engine, insecurity, etc.).
Organizations like Google invest in creating AI-powered solutions like image search to make the internet search process easier. It analyses a photo and looks for similar things for sale using image recognition algorithms. One of the earliest online shops to start utilizing AI was Amazon. At the time, it aided in creating visual Recognition for the brand. Amazon's 2019 release of the AI-powered screenshot search plugin StyleSnap is regarded as a very useful online shopping assistant function.

How Image Recognition is Used in Fashion
To begin with, image recognition is a collection of AI-powered protocols and algorithms that uses various methods for analyzing visual input. Image recognition puts in the capacity of a software program to recognize the desired items.
Computer vision (CV) systems are largely used in the fashion industry as machine learning (ML). It is an area of computer science concerned with making it possible for AI-based software to extract useful information from visual materials. Typical duties for a CV include:
Image classification

, object detection, and object association with a single, focused classifier or, in the case of multiple-category classification, several classifiers.

Associating the pixels of an item to a specific class name or

semantic segmentation

.

Segmenting instances

or isolating various items belonging to the same class.
Face recognition is also made possible by AI-driven picture processing. As a result, you may unlock it, try on Instagram masks, and many other things using the camera on your phone. In the fashion sector, there are primarily two methods for implementing picture recognition. These consist of intelligent recommendations and visual searches. Let's go over both of these carefully.
Clothing design
Artificial intelligence (AI) in fashion design has historically been underused. But as more researchers create fresh models for creativity, the technology's potentials become increasingly clear. The best buddies of fashion designers may soon be AI models. Creating adversarial networks (GANs) is a sort of  (ML)  machine learning that jointly trains two negative models: a creator (the designer), which learns to create images that appear real, and a discriminator (the designer critic), which learns to discern between real and false photos.
During training, the discriminator gets better at spotting fakes while the generator produces authentic images. The inventive use of technology allows computer-generated pictures and movement to appear believable (and aesthetically pleasant) to the viewer. However, AI is more than just useful for creating new designs. For example, fashion companies employ technology to collect more sophisticated data to understand consumer preferences better and generate better clothing.
Visual Search
Besides a cloth detection system, the AI-driven technology known as "visual search" applies visual recognition methods to photos, videos, and three-dimensional (3D) content. It enables computers to scan an uploaded image, recognize things found, and classify them. The objects are then compared with ones in a database using the major factors stated below in decreasing order of relevance.
Type.

The thing is used (in case it is not naturally defined by the type).

Size (modified to "actual" measurements instead of those reflected in an image).

Style.

Colour.
For instance, a system will define a pillow if you provide a screenshot of one. The size, style, and whether it is a luxury or basic pad will all be determined by algorithms after determining whether it is decorative, regular, or medical. Then, to locate the same or comparable pillows, every pixel of this pillow will be compared to all the images in the database.
The fact that visual search is based on machine learning methods for visual content is also fantastic (ML). It implies that the system will produce more precise results by analyzing more photos. Therefore, visual search is increasingly in demand as results improve.
Clothing detection or Recognition
Visual search is essential to the fashion industry's ability to recognize clothing accurately. In essence, AI algorithms are modified particularly to recognize only apparel. Therefore, avoiding unintentionally identifying irrelevant objects is beneficial.
Online fashion retailers provide visual search extensions that can be used to find clothing and match their details with internal databases. As a result, users get links to web pages to read reviews of identical or related products. The information about a particular item may also be displayed to a buyer on a picture. A straightforward and practical solution for aiding internet shopping is clothes detection.
Authenticating automatically
Detecting fashion forgeries and counterfeit goods also use computer vision services driven by ML. Previously, spotting fakes needed the trained eye of experienced customs agents or other law enforcement professionals. AI systems can now detect when fake goods resemble genuine goods more closely. AI technology is being used by customs and border authorities to identify the authenticity of expensive goods that are frequently imitated, such as handbags and sunglasses.
Ordinary consumers may need help identifying fake goods when browsing huge online markets by third parties. When a customer buys a product that seems trustworthy but doesn't work well, it could make them think poorly of the business. Some businesses utilize artificial intelligence (AI) to investigate and spot potentially fake goods using vast datasets and images from multiple online marketplaces.
Forecasting trends
The topic of trend forecasting focuses on predicting the future of a market. The section of the fashion business that predicts new fashion trends—colors, styling techniques, fabric textures, and so on—that will catch consumers' attention is known as fashion forecasting.
Product designers use trend projections from fashion forecasters to create new clothes and accessories for businesses. However, a single fashion trend forecaster would only be able to analyze a little data in time for the upcoming season. By using AI to handle the grunt work, forecasters can look for developing patterns in less conventional industries like film, television, or politics.
Smart Recommendation System
The second critical method of integrating visual Recognition in fashion retail is to provide automatic, customized suggestions. First, data previously acquired through visual search is incorporated into smart recommendation systems. Then, it develops distinctive collections of appropriate fashion options for a buyer to think about.
The method is based on multimodal data mining, which analyses massive amounts of data and produces insightful recommendations. This way, a fashion retailer's online search engine finds related products. In addition, it assists users in locating additional virtual goods that customers might be interested in. The intelligent recommendations system can produce both similar and individual recommendations. Review them now.
Alternative Recommendations
These resemble the suggestions from visual search extensions. However, they are open to the details in a single uploaded screenshot. The algorithm compiles information from all completed searches to produce more precise suggestions for discovering related goods. The fashion retailer's website typically shows alternatives to the items you have already searched for. The accuracy and usefulness of recommendations may significantly improve your shopping experience.
Personal recommendations
These excellent ideas are similar to the ones that were previously mentioned. However, they further customize the available goods so that consumers may receive specific recommendations for upcoming purchases. For visual recognition, the system is constantly creating considerable emphasis. It considers a user's characteristics and adds results into the recommendation system based on the outcomes.
For instance, the smart system will record the item's size data if a consumer has already purchased clothing. The size of an item recommended to this particular customer in the future will meet their preferences. The system processes fundamental elements like colors and styles in a similar way.
Clothing detection procedure
The foundation of a cloth detection system is developing and modifying a model—a specialized system for specific object searching. This cloth detection system and models may be taught to identify objects as they emerge in social media, fashion, and other situations. The process of incorporating cloth detection system and algorithms into such a model may be broken down into the four parts listed below:
Model development using the Object Detection API.

Connecting the model to databases or datasets that are updated often.

Utilizing ML techniques to train the model.

Putting the model to the test and assessing how it performs.
Examples of Visual Recognition Technology Being Used
As has already indicated, major online shops were the first to include visual Recognition in the extensions of their websites. Two examples are the StyleSnap add-on by Amazon, the largest U.S.-based marketplace in the world, and Style Match, an internal search engine by British apparel store ASOS. Both techniques are ideal for visually searching objects that resemble those in an uploaded screenshot.
Style Match by ASOS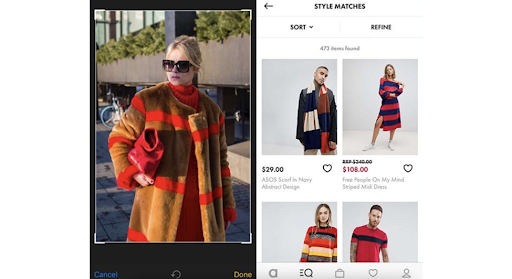 Customers of Style Match can quickly upload a photo of the desired item so that a smart search engine can locate the same or related fashion items. In August 2017, the extension was made available.
Amazon and StyleSnap
Technically speaking, StyleSnap and Style Match is identical. However, the automated tagging of objects in a photo enhances it and makes it a little more difficult. Style Match's search capabilities are broad and don't stop at apparel. The wider selection of goods that Amazon allows users to purchase justifies it. These include clothing, furniture, gadgets, and various other things. Users have used the function since April 2017.
Automated Product Tagging Is Transforming Online Shopping
Automated product labeling is the visual recognition system's killer feature. It only categorizes an image of a product based on recognized optical characteristics. A processed image is then linked to a specific catalog, where it can be found and displayed to a consumer who has looked for a related item.
Due to the efficiency of digital technologies, manual classification is no longer necessary. They lessen tagging errors, which is beneficial for catalog or inventory management and visual Recognition. Stocks are kept from being either over or understocked thanks to automated product tagging. It is a financially sensible response to various inventory management problems.
The Last Say
The clothing industry is quickly changing due to digitalization. These days, ai image algorithms meld the lines between in-person and online buying, encouraging consumers to make informed selections. In addition, artificial intelligence, computer vision, and machine learning technologies have expanded the clothing creation process, cloth detection system, and virtual merchandise boundaries. The next breed of technologies we might witness in the nearish future will also be fueled by the rising investments made in technological advancement by leading international fashion businesses.